There are five things in my life about which I am not the least bit humble. My children are fantastic, interesting, very cool people. My husband is handsome, smart, funny, romantic and extremely loving. My Soap Site absolutely kicks ass, thanks largely to the efforts of some fabulous women on my staff, fabulous fans and a fabulous web designing son of mine. I am a great public speaker and lastly, I have a reputation of being an incredible cook.
When I was six, I remember my mom jumping me up onto the three-legged stool that sat by our old massive electric stove and telling me, "You ain't much to look at, girl, so we've got to teach you to cook." Getting away from the damage THAT did for a while (I really was a very cute little girl, actually), it marked the beginning of a lifelong interest in and enjoyment of cooking. The fact that I actually did snag my favorite husband by cooking for him should not in anyway reflect disparagement on my looks. When I was ten, my mom started a series of rotations in and out of the hospital and I had to cook full time for my dad and two brothers. They were my guinea pigs and I learned many new things as I experimented on the themes mom had taught me.
The secret is that none of the stuff that I cook that hear people raving about is all that difficult. I have a knack for coming upon recipes that are easy and taste great, like you've spent hours in the kitchen. I have enjoyed preparing these and watching people enjoy them for a long time and want to share them with my cyber pals. I hope you find use for some of them. Thanks to two husbands in the military, I have been blessed with living in many different regions (Western Ky, Guam, New Mexico, England, Idaho and California) and have found wonderful recipes where ever I have gone. Let me know how it goes if you give any of these a try. I'm certainly not claiming any of these as original and many are simply redirects to some really great products that have helped me in the past (nope, I don't get kickbacks, but I should). If these are popular, I'll add more later.
This page was originally started for my sons as they were leaving home so that they could have some of the foods they enjoyed from my cooking. If any of this sounds like I'm talking down to you, it's because my sons had little experience cooking and wanted to know how to duplicate the things I make at home. So when I say, "Pancakes: Buy Bisquick," it's not that I think you're stupid and don't know about Bisquick, it was just to tell the guys how to make "mom's" pancakes! Let me know if there are any recipes here you particularly enjoy.
SLOPPY NOODLES
2 C SELF RISING FLOUR 1 EGG
1/4 C MILK
CHICKEN BOUILLON
Start water boiling, add bouillon when boiling to make about 12 cups. Mix all ingredients together. Dough will be very stiff. When thoroughly mixed, turn dough out onto floured surface. Roll out to about 1/4" thick, 6" wide. Placing the dough so that the short sides are to your right and left, roll up the flattened dough like a jelly roll into a kind of spiraled log. Cut noodles about 1/2 - 1" wide. Unroll and drop into boiling bouillon. Cook on medium heat until done throughout. Do not burn. These are soft noodles, kind of like dumplings, that have a rich sauce form around them.
FUDGE
Buy Kraft Marshmallow Creme and use the recipe for Fantasy Fudge on the jar. It's really wonderful.
If you want peanut butter fudge, leave out the chocolate chips and put in about 1/2 cup of peanut butter instead. You can also buy peanut butter chips to use the same as chocolate chips.
PORK CHOPS
Buy SHAKE AND BAKE FOR PORK and follow the instructions. Trim the fat off the chips before shaking or trim the fat off, roll the chops (with or without bone) in crushed crackers with a little salt & pepper, then fry in a skillet with about 1/4" Crisco Oil that has been heated over med-high heat until hot. Reduce heat to medium and turn as needed. ALWAYS COOK PORK ALL THE WAY THROUGH OR YOU'LL DIE OF TRICHINOSIS.
FRIED CHICKEN
My family doesn't care for dark meat, so I use the frozen split breasts that come in the big pack. Regardless of what it says on the pack about being able to use them frozen, always thaw the meat for fried chicken. Trust me, not them.
Roll the thawed chicken in a mixture of 1c self rising flour, 1t pepper and 1/2 t salt. Have your skillet with about 1/4" of Crisco oil heating on med high heat while you prep the chicken. Roll the floured chicken in hot oil WITH THE SIDE WITH THE MOST SKIN DOWN.
Open a window or turn on the stove fan or your kitchen will get all greasy. Keep an eye on it or it will burn (the chicken, not the kitchen, well, maybe the kitchen, but hopefully not). Turn the chicken over when it is brown on the bottom and cook the other side. Turn the chicken again when that side is done and let it cook until it's done all through. Use a fork or knife and see if the meat is tender and there's no blood.

CHOCOLATE CHIP COOKIES
The best recipe is on the Nestle Toll House Semi-Sweet Chocolate Chips bag, which you will need to make the cookies anyway. Their milk chocolate chips are also great. Take the cookies out about 1 minute earlier than the bag says and they'll be really chewy. Use butter flavored Crisco shortening instead of butter or margarine and the flavor seems to be better.
RICE KRISPIE BARS
The recipe is on almost every box of Rice Krispies (fake or original) or bag of marshmallows sold in America. You can also put a layer of chocolate chips in the bottom of the pan and melt them in the oven for a few minutes before spreading out your cereal/marshmallow mixture for a nice variation.
POTATO CANDY
1 BAG OF POWDERED (CONFECTIONER'S) SUGAR
1 SMALL JAR OF PEANUT BUTTER
1 MEDIUM SIZED POTATO
1t VANILLA FLAVORING
Boil potato until it is soft. Drain off water and put potato into mixing bowl. Pour 1/2 the bag of powdered sugar into bowl and mix with potato. The mixture will get very runny, don't panic. It's just the enzymes in the potato breaking down the powdered sugar. Keep adding powdered sugar until it's firmer and manageable. When it is, add the vanilla and more powdered sugar if needed. Turn out onto a surface floured with powdered sugar. Knead the mixture for a few minutes, then, using lots of powdered sugar to keep it from getting sticky, roll it out flat. Spread peanut butter over mixture, then roll up like like a jelly roll into a log. Cut into slices. Keep refrigerated.
PANCAKES
Buy BISQUICK, follow their recipe; you can't go wrong.

BISCUITS
The very best biscuits you can possibly ever make come from a packet in the grocery store called "Bisquick Complete." It's very, very different from Bisquick in a box and you cannot go wrong with them. You only add water, mix and stir, but they taste better than any biscuits I've ever had that ANYONE made from scratch.
BUT
If you have time and really want to make some biscuits walk and talk, follow this one:
2 c self rising flour (self rising flour is your friend)
1/4 c shortening
2/3 c milk
Measure the flour out into a big mixing bowl. Throw in the shortening and with either a pastry blender (don't ask) or your potato masher (easiest), "cut" the shortening into the flour. This means that you hop the potato masher up and down on the shortening over and over, blending it into the flour until it looks like really thick flour. When it's all mixed in, make a well in the middle and add your milk. Blend all this together into a sticky dough, then turn it out onto a floured surface. Don't knead this. Gently pat the dough flat until it's about 2-3" thick or half the depth your want your biscuits to be after they're cooked. Use the top of a glass to cut the biscuits and put them into an ungreased cake pan or cookie sheet, sides touching if you want soft edges or apart if you want crust all around. Bake at 450 degrees until they have golden tops, about 12-15 minutes.
OR
If you get really froggy, you can make these, which are really yummy:
ANGEL BISCUITS
2 c milk
4 T white vinegar
1 pkg powdered yeast (check the date to be sure it isn't expired)
3 t warm (not hot) water
1/2 c sugar
1/2 c melted shortening
4-5c self rising flour
Warm the milk to room temperature and add the vinegar to sour it.
Thoroughly dissolve the pack of yeast in the warm water in a big (BIG) mixing bowl.
Add the warm, soured milk to the yeast and water, gently mixing them together. Next add the sugar for the yeast to eat, then the melted shortening. Mix well, then add the flour, a cup at a time, till you have a formed, but sticky dough. Cover and put in the refrigerator for at least an hour.
Remove dough from refrigerator and roll out as with regular biscuits above. Brush tops with melted butter before baking at 450 degrees until golden brown. Be careful because the bottoms of these are desperately wanting to burn. I finish mine browning under the broiler once the biscuits are basically cooked rather than complete the browning in the oven. Use real butter and be prepared to eat about 10 or so in a sitting. Yum
PIZZA
Ragu Pizza Quick Sauce, Traditional (CAN ALSO USE THEIR SPAGHETTI SAUCE OR PREGGO)
Any Pizza Dough Mix
Any toppings you want
SHREDDED MOZZARELLA (Kraft or Sargento's is best)
Make dough according to directions. Turn on your oven to preheat according to pizza dough instructions and let the dough rise on the back of the stove. Spread dough onto GREASED cookie sheet or pizza pan. Spread sauce thinly over dough. Add toppings, they scatter lightly with cheese. Cook for about 8 minutes. Scissors will cut pizza better than a pizza cutter. Get a pair of scissors to use as "kitchen scissors" and you'll use them for everything.
CAKE
SUPERMOIST IS THE BEST CAKE MIX. FOLLOW INSTRUCTIONS. FROST WITH CANNED FROSTING OR USE:
BUTTERCREAM FROSTING
1 LB BAG OF POWDERED SUGAR
1 t VANILLA
1/2 CUP MILK
1/2 CUP BUTTERED FLAVORED CRISCO
Start with 1/2 bag powdered sugar. Add Crisco, vanilla and 1/2 the milk. Mix with mixer. Add extra milk or powdered sugar as needed.
Can add 1/2 cup cocoa with powdered sugar for chocolate frosting.
CHICKEN STIR-FRY FOR TWO
3 SPLIT CHICKEN BREASTS OR BONELESS SKINLESS BREASTS
1 PACKAGE FROZEN JAPANESE VEGETABLES
1/4 CUP PINEAPPLE TIDBITS
2 RAW CARROTS, SLICED INTO THIN COINS
1 PKG STIR-FRY SEASONING (SUN BIRD OR OTHER) PREPARED AS PER DIRECTIONS
SOY SAUCE
SMALL AMOUNT OF CRISCO OIL
1 T ONION FLAKES
ALMOND SLIVERS IF DESIRED
Skin and bone chicken breast; cut filets into small slices.
Heat enough oil to cover the bottom of the skillet or wok. When a drop of water will pop in the oil, stir-fry chicken and onion until done. Mix constantly (hence STIR-fry). When chicken is almost done, dump in frozen veggies & carrots. Mix together, then pour Stir-Fry seasoning onto mixture. It won't look like enough, but it will be. Mix well until the food is coated. Add pineapple and mix again. Lower heat and let simmer for about 10 minutes, stirring often. Most people like this served on or with rice.
LASAGNA FOR 4
1 PKG GROUND BEEF (1.5 LBS) 1 BOX NOODLES
1 LARGE JAR OF PREGO SAUCE 3 T ONION
1 SM COTTAGE CHEESE (OPTIONAL, I DON'T USE IT)
3 CUPS SHREDDED MOZZARELLA
1 BOX EXTRA WIDE LASAGNA NOODLES
Cook lasagna noodles according to directions on box, but for only 1/2 of the time given, then drain. Brown the ground beef with onion. When done, drain the grease and rinse the beef in a strainer. Pour Ragu into beef and mix well. Spread a little of the sauce mixture on the bottom of a 13x9" baking pan. Layer beginning with the 1/2 done noodles, then sauce, cottage cheese, mozzarella, then noodles again. When you get to the top of the pan, end the layering with the last of your sauce and a little sprinkle of mozzarella. Sprinkle with parmesan cheese if you want. Bake at 350 degrees for about 45 minutes. When the lasagna doesn't seem watery any more and the cheese is melted and slightly brown, it is done. Let is set for about 15-20 minutes to cool before cutting. This will keep almost forever if you wrap it individually in foil (if you use a regular oven for heating) or plastic wrap (for microwave) and freeze it.
STEAK
Buy sirloin tip, London broil or round tip. T-Bone and Porterhouse are great, but expensive. Marinade steaks according to instructions on the package. My favorite marinade is the McCormick pack that just says ominously "Meat Marinade." It uses a combo of Crisco oil and white vinegar. Poke holes in steaks for increased tenderness. Grill or broil. Start out at about 8 min on each side for medium rare. Cook to choice from there.
FRENCH TOAST
2 EGGS 4-5 SLICES OF WHITE BREAD
1 T MILK 1 t VANILLA
1 t SUGAR SM AMOUNT OF BUTTER FLAVORED CRISCO
Mix eggs, milk, sugar and vanilla thoroughly in mixing bowl. Heat skillet on med high heat with enough melted buttered flavored Crisco to cover bottom lightly. When Crisco is hot, dip slices of bread into egg mixture until completely covered. Fry until bottom is golden brown, turn and fry other side. Remove from skillet. Can sprinkle with powdered sugar if you like. Serve with syrup.
HOMEMADE BREAD, SORT OF
I use BRIDGEFORD or RICH'S frozen bread dough. Follow instructions on the package. Spray pans with butter flavored Pam or rub with butter flavored Crisco. Don't use real butter or it will burn.



SCRAMBLED EGGS
2-3 EGGS
2 T MILK (OR 2 "BLOOPS")
SALT & PEPPER TO TASTE
Mix all ingredients completely. Cook on med high heat in preheated skillet with a little bacon grease. Continuously mix with spatula until eggs are cooked as desired.
HAM
Any ham that has NOT been previously seasoned can be glazed with either straight honey dumped all over it or a glaze of 1/2 cup brown sugar mixed with a little water or pineapple juice. Just pour over ham & cook. Most hams come with cooking instructions included.
BBQ CHICKEN OR RIBS OR PORK ROAST
Pour your favorite BBQ sauce over the meat and cook at 350 degrees until done. Chicken and Ribs are about 40 minutes (turn 1/2 way through), Pork Roast is about an hour. Any of the above will taste awesome of you soak them in a couple cans of beer before cooking. Just drain off the beer before dumping on the sauce.65
BAKED CHICKEN
Put chicken in 13x9" cake pan or cookie sheet, Lightly coat chicken with meat tenderizer and dot with Butter Flavored Crisco. Dust with salt and pepper. Cook at 350 degrees for about 45 minutes. Turn half way through. You can also squirt it down with lemon juice before cooking for a lemon pepper effect.
MEAT LOAF
1 PKG GROUND BEEF (ABOUT 1 1/2 LBS)
2 EGGS
1/2 C DRY OATMEAL
1/8 C ONION FLAKES
1 T SALT
1 t PEPPER
KETCHUP
A-1 Sauce (optional)
Mix everything together with potato masher or hands. Add a good sized squirt of ketchup and a bloop of A-1 (optional). When it is completely mixed, pat into a 9x13" cake pan in a meatloafy shape. Cover lightly with ketchup. Bake at 350 degrees until done (about 30 minutes). I like to line the pan with foil for easy clean up.
CHICKEN FRIED STEAK
BEEF ROUND/SIRLOIN, TENDERIZED (this is when it's "cubed" or beaten well with one of those little hammers with the points)
1 CUP SELF RISING FLOUR
1 T SALT
1T PEPPER
A LITTLE CRISCO OIL
Combine flour, salt and pepper well. Coat tenderized cutlets in flour mixture. Fry in oil heated in skillet on Med High heat until water will pop. When brown on both sides, reduce to medium heat and cook to desired doneness. Serve with mashed potatoes, pouring brown gravy made according to package instructions over everything.
BEEF STEW
Buy beef stew meat in the meat section of the grocery or cut up either a thick round steak or a beef roast. Flour pieces as you would for chicken fried steak. Fry the floured beef in oil with about 1/4 c onion flakes until browned all over. Dump the browned, floured meat into a big Dutch oven or crock pot. Add water to about 6" over meat. Throw in a couples of sliced up carrots, about 4 potatoes peeled and cut into chunks and cook for about 2 hours. I recommend using a packaged Beef Stew Seasoning mix (like Durkee) if you want. If too watery, mix about 1/4 cup flour with cool water until dissolved & add to stew.

BEEF ROAST
Oooooh. This is tough. Buy a rump roast, pot roast, or anything else that looks like a roast. Dump it into a Dutch oven or crock pot. Add about 1/4 cup onion flakes, 1 T salt and 1 t pepper. Cook it all together for about 2 hours in a Dutch oven or 4 hours or longer in a crock pot. After it's done, add a couple of peeled, chopped carrots and 4 potatoes peeled and chunked. Cook til veggies are tender.
FRENCH FRIES
Buy a bottle of Crisco Oil that you don't use for anything but french fries. Dump it into a Dutch Oven and heat on high. Wash potatoes well and cut into french fry shapes. Rinse with cold water to clean again. When a fry dropped into the oil sizzles & floats to the top, dump enough fries into the oil so that they can still move independently. Fry until done BUT remember that with new oil, your fries won't brown until they are too done, so pull them out when they are still light. Remove and drain.
If oil gets too hot, remove from burner & let cool slightly. Can use for frozen fries too, but oil will not need to heat as long. When oil cools completely, pour back into the Crisco bottle to use next time.
BAKED POTATOES
MICROWAVE: Poke a few holes in the potatoes and wrap in Saran Wrap. Microwave for about 20 minutes (if 4 potatoes). One potatoe will get done much faster. Check and microwave longer if needed.
OVEN: Cover with butter & wrap in aluminum foil. Bake at 350 degrees for about 1 1/2 hours. Check after 1 hour.
TWICE BAKED POTATOES
Bake 4 potatoes as above. After they are cooked and have cooled, scoop out the insides, leaving a thin potato lining inside the hopefully intact potato skin. Take all of the potato innards and put them together into a mixing bowl. Add 3T of butter, about 1/2 t of salt and 1/4 t of pepper. Mash well. Add about 2T of milk and remash. Spoon the mashed potatoes into the potato skins. Sprinkle with shredded cheddar cheese, chives, bacon bits, etc and bake under a broiler until crispy and golden. These are soooo yummy. Top with sour cream if desired.
BUTTERED POTATOES
Wash, peel and cut potatoes into 1" chunks. Boil in water until VERY soft, about 30 minutes. Drain and add about 1/2 cup butter. Mix well, salt & pepper to taste & serve. These will be like lumpy mashed potatoes.
MASHED POTATOES
Cook as above. Instead of mixing, add about 1/4 cup milk, salt & pepper (to taste) and mash well.
POTATO SKINS
Microwave half the number of potatoes as the number of potato skins you want until they are no longer firm, but not yet super soft. Cut each one in half lengthwise and allow them to cool. Dig out the "meat" of the potato and save in a bowl (mash as aboveif you like, it's still good stuff). You an leave as much or as little meat on the skin as you prefer. Deep fry the skins in hot oil until they are very light golden brown. Remove from the oil and place on a heavy cookie sheet or broiler pain. Sprinkle sugar lightly over the fried skins. Repeat with salt (lightly!). Load down the skins with cheddar-jack cheese, real bacon bits (not those hard things) and cut up green onions. Place under a hot broiler until the cheese melts and starts to brown a bit. Serve those puppies up.
OATMEAL COOKIES
Use the oatmeal cookie recipe on the oatmeal box.
HARDBOILED EGGS
Use a needle and poke a hole in the end of each egg. Put eggs in pan and cover with about 4" cool water. Bring to a boil and boil for about 10 minutes. Cool completely before peeling.
DIVINITY
2 C SUGAR
1 C WATER
1/8 t SALT
1/4 C CORN SYRUP
2 EGG WHITES
1 t VANILLA
(optional) 1 1/2 C CHOPPED WALNUTS OR 1 1/2 C PECAN HALVES

Heat sugar, water, corn syrup, and salt, stirring constantly until sugar has completely dissolved. Continue to cook without stirring until syrup reaches hard ball stage (250 degrees).
Beat egg whites until stiff peaks form. (Heh, heh, hmmh heh , huh, huh, "I said 'stiff peaks'") Slowly pour syrup into egg whites in a thin stream, mixing continuously. Continue mixing until mixture holds a stiff shape. Add nuts and vanilla. Drop onto waxed paper & let cool.
STAINED GLASS WINDOW CANDY
2 C SUGAR
2/3 C CORN SYRUP
1 C WATER
1/2 t FLAVORING (Lemon, Cherry, Strawberry, etc)
FEW DROPS OF FOOD COLORING.
Cook sugar, corn syrup and water over med heat, stirring constantly until sugar completely dissolves. Continue cooking until without stirring until syrup forms a brittle ball when dropped in cold water (310 degrees). Wrap a very wet paper towel around a fork and wipe crystals from sides of pan.
Grease a cookie sheet with real butter. At 310 degrees (brittle ball stage) add the flavoring and color to the mixture and stir it in fast. Pour mixture onto greased cookie sheet and let it harden. When solid, smash the candy with a butter knife. Keep in the refrigerator.
PEANUT BUTTER BALLS
1 1/2 c peanut butter
1/2 c soft butter
1 t vanilla
2 cups powdered sugar
1 12 oz package of MILK CHOCOLATE chips
2 tsp shortening
Line a cookie sheet with waxed paper. In a large bowl, mix the first three ingredients until smooth. Add powdered sugar slowly. Refrigerate for at least an hour.
Melt chocolate chips in microwave or double boiler. Form balls from chilled mixture and put a toothpick in each. Dip into chocolate mixture and place on the wax papered cookie sheet. Freeze. Keep refrigerated or frozen after initial freezing.
POPCORN BALLS
1 T butter
1 c sugar
1 c dark molasses
1/2 t salt
1 gallon of popped popcorn
1 can of peanuts, NOT dry roasted, the regular oily kind
Melt butter in large pan. Add sugar, molasses, salt and boil to 260 degrees (hard ball) over medium heat. Dump popcorn into extra large mixing bowl or other container (I actually totally scrub out my kitchen sink, put in the stopper and grease the sides and bottom with butter flavored Crisco, but I also make a double batch. Make sure sink is dry before you throw in the popcorn. Pour the syrup mixture over the popcorn, scattering it evenly over kernels. Throw on the peanuts. As soon as it cools enough to handle without serious injury, butter your hands and start forming popcorn balls FAST. Peanuts will want to keep sinking to the bottom, so keep turning the mess.
NO-BAKE COOKIES
2 c sugar
1/2 c butter
1/2 c milk
Combine these in a large sauce pan and bring to a boil. Boil for 3 minutes, stirring constantly, and not a second longer.
Remove from heat and add:
2 c oatmeal
1 t vanilla
3 T peanut butter
3 T cocoa if you want chocolate instead of peanut butter, still add peanut butter, tho!
Mix well and drop by spoonfuls onto waxed paper.
Cool and eat.
PLAY-DOH
This is the best toddler on up occupier known to man. After you make it and let it cool, whip out the cookie cutters, spoons, jar lids, straws, anything that they can create with and watch the magic unfold! Because it's oily, it will even polish your wood table. Keep in a gallon sized zip lock bag or other airtight container. Keeps a loooong time.
1 c all purpose flour (do NOT use self rising, abysmal failure)
1/4 c salt
2 T Cream of Tartar
1 c cold water
1 T Crisco oil
2 t any food coloring (or leave white)
Combine everything into a 2 quart sauce pan. Cook over med heat, stirring with a wooden spoon, for several minutes. You'll think you did something wrong and that it could never work out, but you'll start to see rubbery looking parts forming and soon, it's rolling up into a softball sized ball in the pan. Once it forms a decent ball, turn off the heat. Plop it out onto the counter and knead it a bit. If it's too sticky, cook a bit longer. Do not overcook or it'll be dry.
The next two are the most pain in the ass foods you'll ever make, but soooo worth it. Yum!!!
OUTBACK BREAD
Named for the steakhouse and the bread they serve. This is a dark, sweet bread that is great with soft butter.
1 1/2 c warm water
2 T soften butter
1/2 c honey
2 c bread flour
1 2/3 c wheat flour
1 T cocoa
1 T sugar
2 t instant coffee
1 t salt
2 1/2t (1 pkg) yeast
cornmeal for dusting
Combine all flours, cocoa, sugar, coffee & salt in a large bowl. Make a well and pour in the warm water, then the butter, honey and yeast. Slowly mix with spoon, drawing dry ingredients into wet. When you can handle the dough, begin to combine by hand*, kneading thoroughly for at least 10 minutes, until very smooth with a consistent color. Let it sit in a covered bowl in a warm place and rise for an hour.
When dough is double in size, punch it down and divide it into 8 portions. Form these portions into tube shaped loaves about 8" long and 2" wide. Sprinkle each loaf with cornmeal and place on a cookie sheet or 2. Cover with waxed paper and let rise 1 hour.
Preheat oven to 350 degrees. Uncover dough and bake for 20-25 minutes. Loaves will darken slightly on top.
*dough is tacky and thin. You may need to add flour as you work with it. Just keep adding flour until it feel like bread dough.

FLAUTAS
3 16 oz cans of stewed tomatoes (I use the Mexican flavored)
7 cans of diced green chilies
about 7-8 med size potatoes
1 large white onion
a good sized rump roast
garlic powder, salt, pepper
4 packages fajita-sized white flour tortillas
Crisco oil
shredded cheddar cheese
Dice potatoes and onion into 1/2" cubes. (yes, it's a pain, but just do it) Cook together until the potatoes are soft. Boil the roast until it is totally falling apart. Drain and add the tomatoes and cooked potato/onion mix. Mix it up well and cook until most of the liquid is off the mixture. Add chilies and mix well, then simmer about 15-20 minutes as more of the liquid evaporates. Season to taste with garlic powder, salt and pepper.
Once the liquid is down, put about 2-3 T of mixture into a tortilla. Add cheddar cheese if desired. Fold the bottom of the tortilla up around the mixture, then fold the sides in to the middle. Roll the tortilla the rest of the way up.* Fry in hot oil until golden brown on all sides (about 3 minutes). Great with salsa or alone. Mixture freezes wonderfully in a gallon ziploc bag for use later. It will feed an army.
*sad flauta folding illustration: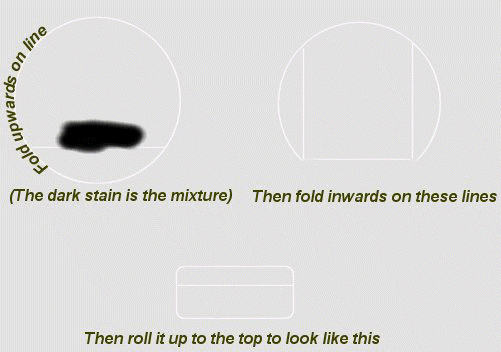 GREEN CHILI CHICKEN ENCHILADA CASSEROLE
1 Chicken boiled and boned or 5-6 chicken breasts boiled until falling off bones
1 stick of butter, margarine or butter flavored Crisco (equals 1/2 cup)
1 medium onion (chopped small)
1 4oz. can chopped green chilies
1 can cream of chicken soup
1 can cream of mushroom Soup
1 cup of broth chicken was cooked in OR 1 can of chicken broth if using breasts
1 pkg. corn tortillas, cut into fourths
Grated cheddar cheese, at least 8 oz
Sauté onion in butter.  Add soups, chilies and broth and stir until smooth. Add chicken broken into pieces.  
Spray casserole with Pam.  Layer tortillas, soup mixture and cheese.  Continue layering until you hit the top
of the pan, ending with cheese.
Bake 45 minutes to 1 hour at 350 degrees or until bubbly.
HOMEMADE CHICKEN NOODLE SOUP
A bunch of chicken (I use about 3 chicken legs or thighs and 4 breasts)
chicken bouillon
2 carrots, chopped
2 stalks of celery, chopped
1/2 bag of medium egg noodles (dry)
1 tsp of thyme
2 bay leaves
2 T dried onion flakes or 1/2 medium onion
salt and pepper to taste

Boil chicken off the bones and remove bones, gristle and skin. Reserve water chicken was boiled in for soup stock, adding more water if necessary. When chicken is down to meat only, return to stock and add all other ingredients except bullion and noodles. Bring to a boil. Add bouillon to taste (about 1/4 cup) and allow to simmer on low, covered, for 15-20 minutes. When carrots and celery are cooked, REMOVE BAY LEAVES and add noodles. Cook according to directions on noodle package and serve. Keeps very well in the fridge and reheats wonderfully.
7-LAYER DIP
Frito Lay Bean Dip - 1 can
2-3 ripe avocados, smashed up - add a dash of garlic salt and lemon juice
16 oz of sour cream mixed with 1 package of taco mix
1 bunch of green onions all chopped up
1 medium tomato, all chopped up
1 small can of sliced black olives
8 oz (or more) of cheddar jack or just cheddar cheese

I use a glass pie plate to hold mine. Start with the bean dip, lining the bottom nicely, then add the mashed avocados, then the onions and so on, in the order above. Let it sit in the refrigerator for an hour or so to marry up the flavors (cover with plastic wrap) and serve with corn chips.

EASY YUMMY TILAPIA
Line a baking fan with heavy foil, spray with butter flavored nonstick spray and add fish, skin side down. Spray the fish with the butter spray, then dump about a half cup of cooking vermouth over it. Then dump some lemon juice onto it. Sprinkle lightly with pepper, salt and a little dash of thyme. Roll the foil down onto the fish to make a little fish packet and bake in a PREHEATED (yes, it matters) 400 degree oven for around 20-25 minutes. Take it out when it's flaky and don't overcook it or it will be rubbery.
HEAVENLY PECAN BARS
1 18.25 ounce yellow cake mix
---save out 2/3 cup of it dry and put aside
1/2 cup margarine, soft
1 egg
then 3 eggs
1 running over teaspoon of vanilla
1 1/2 c dark corn syrup
1/2c packed brown sugar
1 c chopped up pecans or lots more than that
Preheat the oven to 350 degrees while you're doing all the next bit.
Grease a 9x13" cake pan with butter. Mix up the big part of the cake mix (minus the 2/3 c you saved out), the soft margarine and the 1 egg. After you've blended it up well, mash it out into the bottom of the buttered pan. Bake it in the 350 degree oven until it's golden brown, about 15-20 minutes. While that's happening, beat together the next 3 eggs, the vanilla, the 2/3 cup of dry cake mix, corn syrup and brown sugar. When the cake part is baked, pull it out and then pour the syrupy mix on top of it. Sprinkle the top with as many pecans and let it cool if you can stand to, then just sit down in the middle of the floor with the pan and a spoon and eat the whole damned thing yourself.