The Luncheon
The morning of the GH Luncheon, Diva call time as at 6:30 a.m. Six thirty? Katrina was kidding, right? For this night owl, that is unheard of. Thank God for the West Coast time differential! I actually made it to bed at a reasonable hour L.A. time on Friday so breakfast with the ladies wasn't too hard to make on time. The first thing I realized as we sat down was that they had done this many times before. I was a newbie. I stuck out.
"You can help with set up and check in," Katrina said, "And then just sit and enjoy the luncheon, take pictures, etc. You'll be our eyes and ears since we'll be running around like crazy."
What? I felt like Scrappy Do who was being told that he (I) was too young to be part of the mission. I wanted to pile into the Mystery Machine with the other Divas. I didn't argue but secretly wanted to help them and pull my weight at the event. But a woman who has raised six kids, maintained a successful online board for years and is a vet of the GH Fan Luncheon knew her stuff. I completed my set-up duties and planted myself front and center at table 8.
I sat with a lovely bunch of Greg Vaughan fans that he affectionately dubbed his "angels". Since I'd attended three of Greg's events in the last year, faces and names were familiar and I felt right at home. (So I'd gone from Diva to Angel simply by taking a seat!)
The luncheon was scheduled to begin at 11:30 but a press junket for Night Shift had many actors tied up at the studio so there was plenty of time to mill about and see the many tables of fan merchandise and memorabilia for giveaway or for sale. It was literally like a trade show for General Hospital! I stopped by to see Shari, president of Tyler Christopher's fan club. We'd corresponded a few times via e-mail but had never met. I fired off a few shots with the camera and then stopped by Jim Warren's table to see with the fuss was about. I'd heard a lot about this guy and wanted to see his work and perhaps say hello since he was standing there. The shots are good. After all, he's got amazingly photogenic subjects to work with!
"These are great!" I complimented him. "But then again, I'm only an amateur photographer."
I'd heard that Jim was a man of few words. For me, he lived up to his reputation.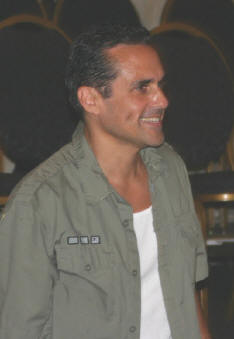 Smilin' Mo!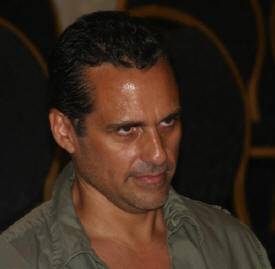 The Corinthos stare
I wandered over to the table where there were bottles displayed looking curiously like wine. "General Hospital Wine?" I thought to myself. Holy merchandising! They didn't, did they? The Sears Luke and Laura ring was pushing it (wink, wink to Katrina!) but this was over the top.
Turns out that it wasn't wine at all. It was a highly concentrated super juice called MonaVieÔ that many of the actors indulge in for good health, the most vocal being Steve Burton. I spoke to the lovely lady at the table, Georgia, and I have to admit that I was fascinated at the prospect of the benefits of MonaVieÔ but, being a natural skeptic, I wanted proof. Too tempted by the opportunity to look and feel as good as Steve Burton (and no, I do not mean literally look like him! LOL!) and by my recent conversion to a more organic lifestyle, I purchased a bottle.
Later that afternoon I was fortunate to get a personal endorsement of MonaVieÔ from Steve, who obviously pays special attention to his health and fitness (right, Kathy?). I'd never met Steve before and he was lovely. Those blue eyes were so bright that they looked almost alien! Also, I found him to be a very gentle and warm personality, a far cry from the mob enforcer he plays on GH.

As Heart's Ann Wilson sings in Magic Man,
"…I've never seen eyes so blue…"
I won't pour on the sales pitch, but I will say that I am now affiliated with the company and have brought the nectar back to my home in the Midwest. It's helped me feel much more energized and it's helping others whom I've shared it with. It's worth a look-see. Check it out on www.monavie.com and draw your own conclusions.
Soon John J. York (Mac Scorpio) came into the room with a hand held mic working the crowd like a talk show host. Some of the stars had arrived but were involved with press in the green room so he was elected "song and dance man" to keep the restless crowd engaged and brimming with anticipation. I've never met or seen John before but I have to say that he is one of the best looking and charming individuals on the planet! He floated from table to table engaging the audience with ease until it was finally time to get down to business.
I was so happy to see John Ingle back on GH! No offense to Jed Allan but, after David Lewis, John just IS Edward. Part of it could be the fact that he's taught acting and has a naturally nurturing side to him when he's working with cast mates. It could be his eyes, which can go from surely to serene and filled with pride. Whatever it is, when he took the podium he had my full attention as, one by one, he introduced the cast to a reception of thunderous applause.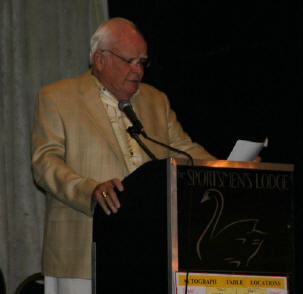 Port Charles's patriarch, Edward Quartermaine
Not unlike athletes taking the field before a big game, the actors briskly entered the room, climbed the stairs hugging "Coach" Ingle before finding their seats while high-fiving and greeting each other. Some of these actors don't work together often so you could feel a real sense of excitement and camaraderie coming from the stage as they chatted and caught up with one another.


Um, Tyler … What are you daydreaming about?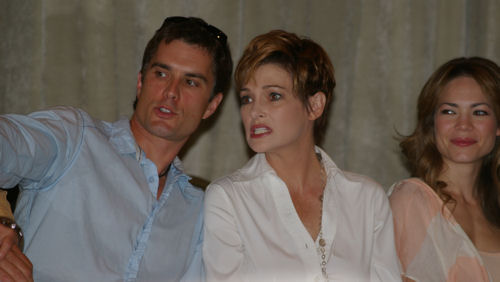 While waiting for things to get underway, Rick Hearst proudly points out his
"Ma" Ann and son Cameron seated at a front table.
Photo courtesy of Shelley Brown
When all were up there, I couldn't help but to feel a little uncomfortable for them. I mean, I'm SURE that they were thrilled to look out over hundreds of fans cheering and applauding, but part of me wondered what it must feel like having all those eyes staring back at you amidst a sea of flash bulbs. You could tell those who were more comfortable than others and I noticed that Maurice Benard (Sonny) was conspicuously absent from the grand cast entrance. (He made a more underscored entry later sneaking in flanked by Jim Warren.)
After welcoming everyone again it was explained that this year, due to time constraints, there would be no awarding of fan club honors from the stage. (I'm not an official member of the GH Fan Club, but if I were, I might have been disappointed about that. I've always heard that was a big part of the event.) Some were verbally announced but Debbie Morris has them all listed on the official Fan Club Web site. Note: You may need to scroll down on the page to find the awards. http://www.ghfanclub.net/ghnews.html
Steve Burton rose and announced that every year it is customary to contribute to a chosen charity. This year Debbie Morris, with the full support of the cast, was donating the substantial financial gift to help the critically ill baby son of a close friend of Greg Vaughan's.
He invited Greg up to tell the audience a little more about this incredibly heart wrenching situation. Greg tried but could barely keep his composure as he choked out his words between sobs. It was a rare moment, when the line between actors and fans was erased and we were all human beings sharing our concern about the welfare of a helpless little boy. For a several minutes, you could hear a pin drop in that cavernous room.
As Greg sat down, still very emotional, the mood was somber until Nancy Lee Grahn suddenly jumped up and grabbed a microphone imploring the audience to add to the total by auctioning off a studio tour for six people including lunch at the studio with, "the entire cast!"
"How about 10?" Steve Burton quickly tempered her promise. Although Nancy's enthusiasm runneth over, the likelihood of fulfillment on that is slim to none due to conflicting schedules. (Smart move, Steve!)
Nancy kept on barking for bids when Rick Hearst rose and grabbed the mic muttering "Give me that!" and treating the audience to a little bit of that creative tension that made "Ric and Alexis" such a popular couple. Behaving more like a competitive brother and sister, the two managed to coax the bids up, even promising at one point that Brian Frons himself would attend. There were two fairly competitive groups bidding and, in the end, Frons consented to two tours, which brought $12,000 each. (No word on if he plans on attending those lunches!)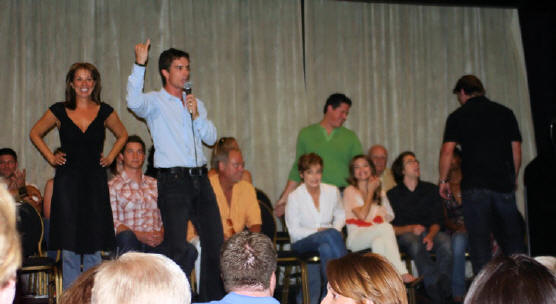 Leave it to Ric and Alexis to make sparks fly for charity!
The spirit of charity sufficiently fueled by the antics on stage, a few other actors added silent auction items including Greg Vaughan, who put up for bid a picture taken with him to be printed in Soap Opera Digest. It didn't take long for the "angels" at my table to respond and we ended up winning the posed shot to be taken by none other than GH photographer extraordinaire, Jim Warren. The photo was published in the August 21 issue. For those who missed it, here it is!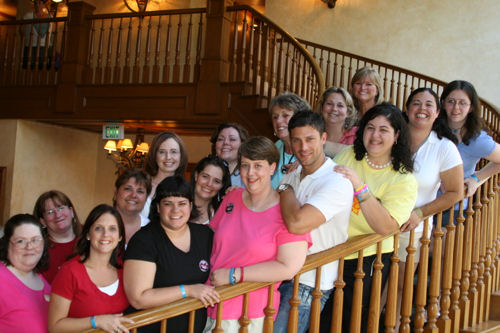 "Greg's Angels"
Photo by Jim Warren.
Once again, time was of the essence, so the stars adjourned to their respective tables to sign autographs and pose for pictures. Guests were dismissed table by table, so that the initial pandemonium was kept to a minimum. I moseyed up to Tyler Christopher's table first and then kind of made the rounds snapping candids for Eye On Soaps in between. I'd heard from many people who'd attended that it was impossible to see all of your favorites. My experience was quite the contrary.
I had a plan. The lines that were smallest were the ones I'd hit first. As I suspected, these were the people who slipped out earlier but still I got quality time with each one of them. If I'd been fortunate enough to visit with them the night before at the Kick-Off, or I'd see them at another event, I made them a lesser priority. (Pretty well thought out, huh?)
I was THRILLED to finally meet Stuart Damon (Alan Quartermaine) and, I must say, that he me feel like a little girl again.
"I loved you when you were prince charming!" I shamelessly gushed about his television rendition of Cinderella with Lesley Ann Warren. (Sneak a peek below! Seeing it again made me verklempt!) Note: You may need to copy and paste in your browser.
http://www.youtube.com/watch?v=wiebudqav0U
"Yes?" Stuart seemed pleased and then gave me a faux pout, "But do you still love me now?"
As if he had to ask? My answer was a bug hug and I told him that he looked like he was having so much fun playing Alan's ghost and he said, "Darlin', I'm having the time of my life!"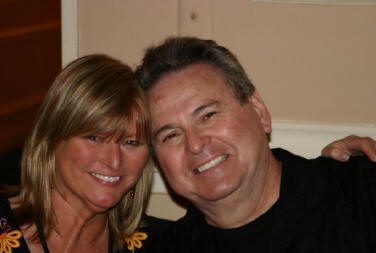 I got to chat with Megan Ward, (Kate Howard) who was really cute and bubbly. Annie Wersching (Amelia Joffe) was a riot! Although I didn't get a shot with her, I really enjoyed telling her that I love watching her put the screws to Sam! The minute Josh Duhon (Logan Hayes) saw me approaching dangling two pairs of diva glasses, he immediately lit up grinning, "Julie loves stuff like this!" She (Lulu) grabbed them and instantly threw them on. Katrina's featured quite a few shots of these two in their spectacular shades!
http://www.eyeonsoaps.net/divas2007b.htm
I mentioned earlier that I met Steve Burton but, in keeping things mobular, I also had a brief first time encounter with "The Godfather" himself, Maurice Benard and his latest mouthpiece Carolyn Hennessy (Diane Miller). Carolyn proved to be one of my favorite people and seemed to be having a blast at her first GH fan event. We've only recently gotten to see what true potential she has on screen. The recent courtroom scenes at Jason's trial and the amusing dinner with Sonny - crashed by a lofty Kate Howard - afterward show just how talented she is; I hope that they expand her role. She, as they say, has got the chops!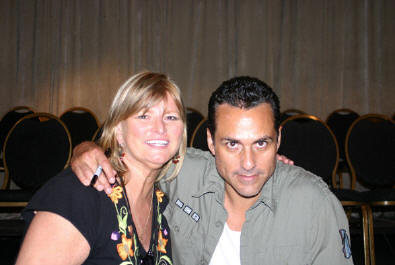 Close Encounter with a Mob Boss!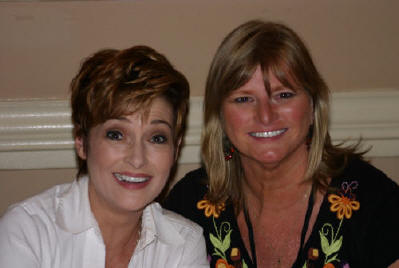 Hangin' with the Mob Lawyer
I popped over to the next room to see Laura Wright but that line was insane! I still managed to grab a few candids of her greeting fans and, when she spied my lens, Laura threw a radiant smile my way. Again, she seems like the kind of lady who knows what she wants and like she knows how to have a good time!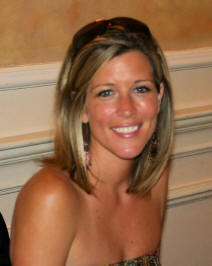 Laura flashes her pearly
whites for the camera
As I made my way back to the main ballroom, Kathy called me over to tell me that she had to dash off to another event and asked if I would mind helping with Rebecca Herbst's fan line for the remainder of the afternoon. It was in doing that, which the whole "fan experience" came full circle for me. I suddenly understood why Katrina wanted me to enjoy the luncheon experience strictly from the fan's point of view. I also understood how important it was to the organizers and to the actors for each and every fan to walk away with a positive experience. Given the fact that there were hundreds of people in attendance, that had to be a challenge.
Still, as I stood taking shot after shot of fans excitedly posing with Becky and/or her husband Michael (Saucedo ex-Juan, who'd arrived toward the end of the event) I was having a ball! I could see that the pictures were going to make them as happy as I was in the many photos I've had taken over the years. I really enjoyed that. It was fun! Becky and Michael were also very gracious to pose with me for their last shot of the day. Thanks, you two!

The last shot of the day with Becky and Michael
By the time the event was over and the last stars were escorted out (Rick Hearst, Greg Vaughan, Jason Thompson and Kimberly McCullough, Rebecca Herbst and Laura Wright were the final stragglers), I was beat. Happy? Damned straight! It was an afternoon I'll never forget. That evening, as Katrina, Carolyn and I sat lazily around the pool sipping a tall cold one, I realized that I was exhausted but it was sweet, satisfied, exhaustion indeed.